The Ears Of Regret: King Midas and Gods of Music
STORYTELLING FLUTE THEATER
Authors: Yulia Berry and Onorio Zaralli

Levels: Mixed, Beginner to Advanced

Music time: 4 min 50 seconds
STORYTELLING FLUTE THEATER


Performing license

Script

Print quality poster

Audios

Score

Parts

Narrator's voice recording

Personalized certificates for performers

Harp recording

Various video backgrounds

PowerPoint and Google Slides presentations

Activities for the audience

Ideas for a successful performance


"The Ears of Regret" is the first musical tale in a trilogy about the adventures of King Midas. Two other tales will be released soon.
Introducing a new genre:

🎭 STORYTELLING
FLUTE THEATER 🎭
A new musical tale "The Ears of Regret: King Midas and Gods of Music" is an enchanting experience in Storytelling Musical Theater that's perfect for any occasion.

This captivating Performing Package is fully adaptable to your needs, whether you have a handful of participants or a large ensemble.

Whether you're planning studio recitals, school events, college showcases, or concert programs, "The Ears of Regret" is the perfect addition to your repertoire.

Empty space, drag to resize
MIXED LEVELS
Beginners to Advanced

GREAT TO MIX AGES AND INVOLVE YOUNG STUDENTS
6 FLUTES & HARP
Easily adapts to any number of participants
PERFORMING LICENSE
includes many tools for a successful performance
Watch the video presentation:

Top features
🎭 Performing Package 🎭
Are you ready to embark on a musical journey that transcends entertainment and education?

Unveil the magic of "The Ears of Regret: King Midas and Gods of Music"," an enchanting tale that brings together the world of music, theater, and storytelling.

This unique package is your key to unlocking a world of creativity and inspiration, making it an invaluable addition to your repertoire.


"The Ears of Regret" brings the timeless story of King Midas and the Gods of Music to life. It's not just a performance but an educational journey that appeals to audiences of all ages. Originally designed to captivate children, it also resonates with older audiences, making it perfect for studio recitals, schools, colleges, and concert programs.
The backdrop for your performance is a visual spectacle in itself. Elevate the storytelling with stunning slide or video presentations that transport your audience to a world of magic and myth.
Benefit from professional guidance on how to put together a seamless and engaging performance. Whether you're a seasoned performer or just starting, these tips will ensure your success.
Advertise your performance with a beautifully designed poster that captivates the imagination.
Reward performers with a personalized certificate
High quality resolution, each certificate can be customized and downloaded through the generator included in the Performing Package on the website.
Flute Theater - new genre for flutists
Get Started Today!
Embrace the magic of "The Ears of Regret" for just $99. With instant download availability, you can begin your journey into the world of Storytelling Musical Theater right now. It's a package that transcends performance, offering inspiration, education, and unity.

Elevate your musical experience and embark on a unique storytelling adventure. Don't miss out on this opportunity to captivate hearts, minds, and ears. Purchase your package today and step into a world where music and storytelling blend seamlessly.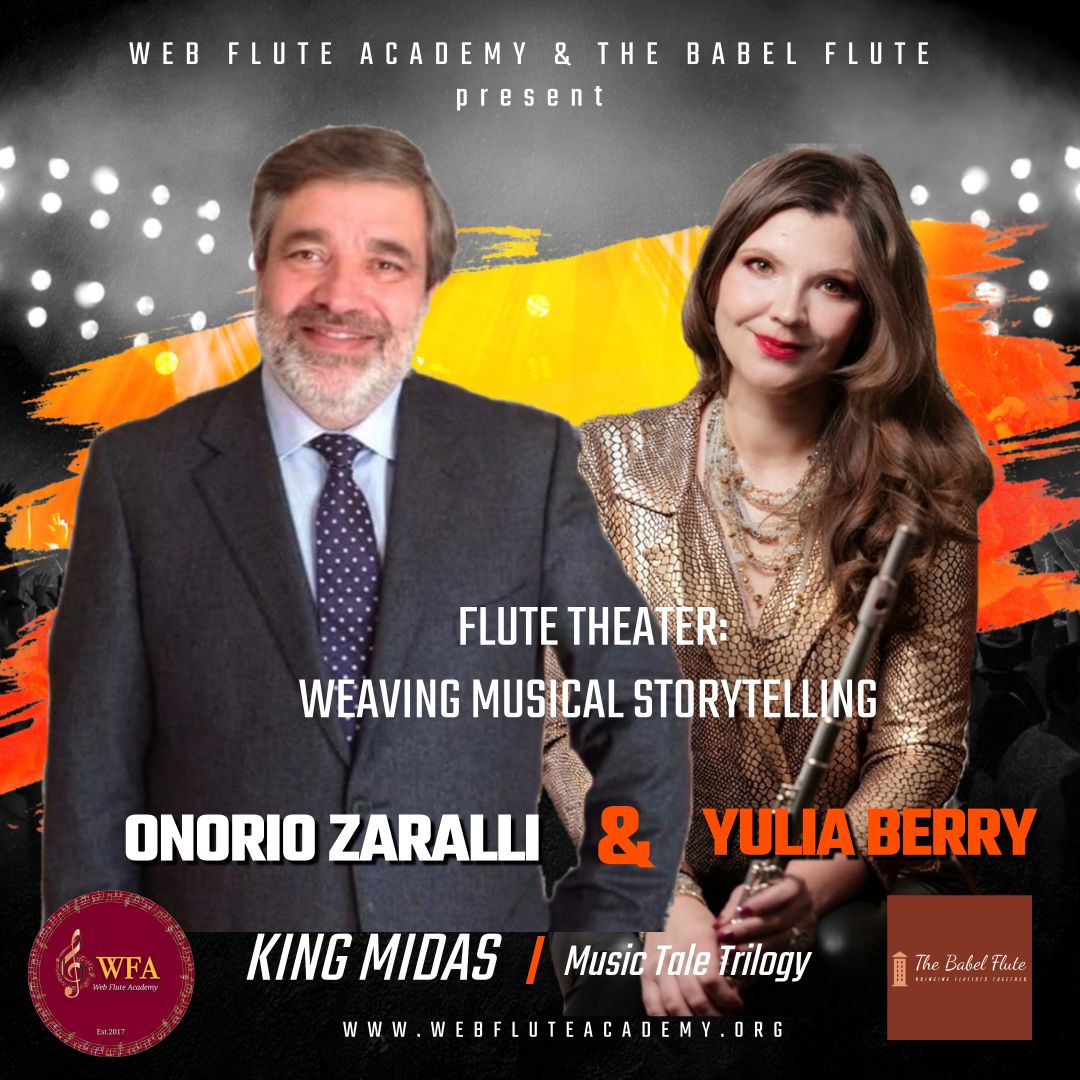 Onorio Zaralli & Yulia Berry
This exceptional package is the brainchild of Yulia Berry, D.M.A., an independent flutist, publisher and experienced pedagogue. The music is composed by Onorio Zaralli, a renowned flutist, composer, and innovator. Their expertise ensures that this package offers a wealth of educational value, motivating practice, and uniting flutists of all levels.
CREATORS

Professional flutists and pedagogues

Experience

70 years combined

EMAIL
Subscribe to newsletter
Web Flute Academy &
The Babel Flute
Get updates on our news, events, live streams, new courses, exclusive content from The Babel Flute, and more right in your mailbox.
Take a ride in a time machine
Travel back in time to Ancient Babylon

Attend the Global Flute Convention

Get access to exclusive content

Meet very interesting flute players and teachers from all over the world!
Created with